In preparation for one of the most expensive fights in boxing history, Conor McGregor has been training with ex-boxer Paulie Malignaggi. Malignaggi has apparently warned Floyd Mayweather not to underestimate his opponent, because he can pack a punch!
The Big Punch
Malignaggi, has been exchanging blows with McGregor and states that if McGregor has to land a punch on Mayweather, he will definitely 'feel it'.
He continues to say that many have probed him for more information on how he fights. But he will only disclose that he feels McGregor can pack an above average punch. He explains that McGregor does not have a punch that boasts 'Oh my God power' however, he will catch your attention. Furthermore, McGregor is very accurate which Malignaggi feels will assist with the success in his punches.
Malignaggi expresses that although he's not overwhelmingly powerful, he does have power, but above all he has accuracy.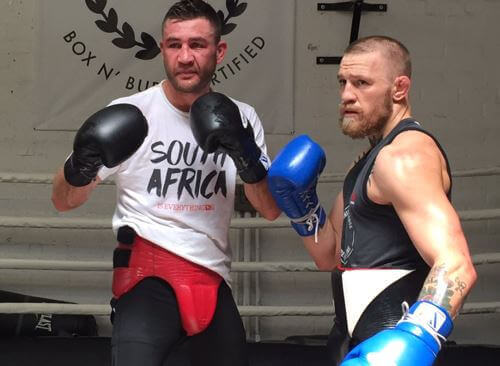 Punch Back
McGregor has now got an even greater fire in his belly to punch back. This after Mike Tyson claimed that McGregor will get 'killed' against Mayweather. After hearing this, McGregor retorted by saying "That's nice Mike. But you're looking at the new Don King here, son. Money is mine."
How to Roll with The Punches
McGregor has recently been photographed during his training for his fight against Mayweather on the 26th of August. He is seen taking a very odd stance, taking what looks to be a crane-like stance, which rose to fame in the 1984 Karate Kid movie.
McGregor claims that this is "re-writing prize fighting" and who can argue with him? Surely, by trying something different, the results may differ. For reasons like this, sports betting stations have been exceptionally busy.
That's a Wrap
Although there is a lot of speculation over this fight, we will only know on the 26th of August, as to how it will all go down. Will rookie boxer, UFC fighter, Conor McGregor make history and see Mayweather retire? Or will Mayweather maintain his title of being the unbeaten boxing champion? Either way, we at Top Aus Casinos will keep our readers updated.