Popular for their pubs and hotels strewn across Australia, the Zagame family has decided to put their Vanuatu Casino resort up for sale.
With eight levels, this hotel boasts 15 gaming tables, a whopping 136 gaming machines, not to mention the restaurants, conference rooms and bars made available for the players' convenience. The Vanuatu Grand Hotel and Casino Resort, based in the South Pacific isle, is now sitting on the market for the amount of AU$25 million.
Where did the Zagame Casino Resort Begin?
The resort was purchased in 2004, by the Zagame family. Three years before this, the family was said to be assisting in the funding of an investment, to purchase an island resort, Irirki.
The Zagame family are now said to be focused on their hotel interests in Australia. Which includes five venues in Victoria.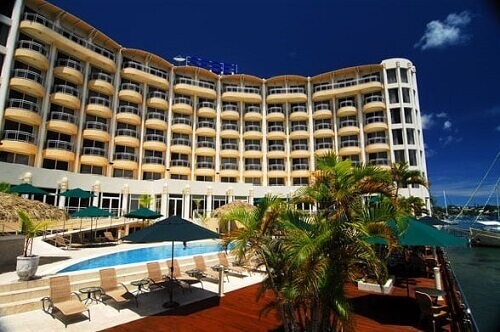 What Do the Experts Have to Say?
Rob Cross, sales agent, states that they are expecting to get interest for the resort largely from its Australian and New Zealander investors. He further mentions that this hotel and casino resort is one of the best opportunities for potential investors. The reason for this is because the company has a strong brand reputation, making it easier for someone acquiring the hotel to receive further trading benefits.
In Port Vila, there are three casino resorts, namely: Club 21, the Grand and Le Meridien Hotel.
Challenges
Although owning a luxury resort may seem like a dream come true, there are many challenges that come with it. Casino Vanuatu and others like it, face the challenge of greater resorts opening up over Asia and Australian soil.
Yet, Cairns resort sale proves that the tourism aspect of these businesses is still strong in traditional locations.
More on Zagames
In 1971, Zagames began as a brand, in Northcote, inland Melbourne. From this point onward, it started to specialise in large venues in the suburbs. These venues offer a wide range of gaming services, as well as hospitality.
The Zagame is run by Bobby and Victor Zagame. The Corporation consists of multiple hotels and restaurants.
Recently, in Queensland, the Zagame Corporation purchased a shopping mall. The Zagame brand itself is also said to have gone further with the inclusion of Zagame Automotive.