Finally, Western Australia (WA) may get a chance to have its long overdue dip in the gambling revenue pool.
Although WA does not authorise pokies, it is said that there have been many arguments regarding the splitting of revenue received from slots machines, by other states. WA felt it only fair that they receive a portion of the revenue generated by states permitting the online slots machines. Reason being is that WA is expected to redistribute their revenue generated from mining operations.
At an interview with Perth radio station 6PR, Federal Treasurer Scott Morrison, stated that he would be open-minded with regards to the proposition and further look into a more just distribution of the gambling wealth generated by Australia.
As made evident through the Australian goods and services tax (GST) system, which was introduced to government in 2000, funds are not being evenly distributed. This is said on the basis that the ten percent tariff on approximately half of Aussie goods and services, raises roughly AU$ 57 billion annually. The funds received from this tax is meant to be evenly distributed by the government, but rumour has it, that some states are more equal than others.
Equal but different
With the saying, "equal but different" it is said that the Aussie government realises that not all of its states are born equal. Tax revenue methods vary from state to state and so the horizontal fiscal equalisation formula came to be. This formula is said to level out the inequalities in finances across Australian states.
However, it is apparent that pokies taxes do not form part of the GST system. Whereby other states are able to rake in and keep hundreds of millions of AU$, as well as reap the rewards from the royalties received through WA's mining operations. Which forms part of the redistribution package.
WA Treasurer, Ben Wyatt, expressed his distaste upon being questioned about the Commonwealth Grants Commission report. The report articulates that WA is a state with a fiscal capacity that is said to be the strongest. Thus, justifying the small portion of GST compensation that WA receives. This is despite the sparse gambling revenues WA makes.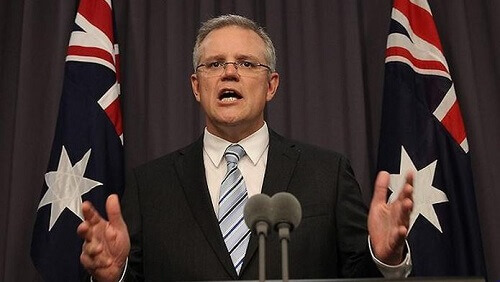 Federal Treasurer expresses his Sympathy
Scott Morrison, Federal Treasurer, expresses his great sympathies for the argument brought forward by WA. He promises that the issue is being looked into, as he himself, is not a pokies fan. He suggests that he is avidly working toward this issue and treating it with the care that it needs. He too feels that recently, this issue has been serving as a great disadvantage to WA.
It is believed that if the state revenue were to be reassessed by the Common Wealth Grants Commission, to include gambling royalties. WA would benefit approximately AU$400 million per annum.
However, the idea that GST should provide WA a better arrangement, has already been opposed by Queensland as well as South Australia.