In recent casino news, the Italian Soccer team, AC Milan has reported that they have joined in on a three-year long sponsorship agreement with the online gambling brand, StarCasinὸ.
It has been announced that StarCasinὸ will be an integral partner to the Series A, Associazione Calcio Milan Club, within the next three years of its soccer season. What this partnership aims at achieving is to provide fans from the top-flight club with a variety of entertainment opportunities and an array of exclusive events and offers as well.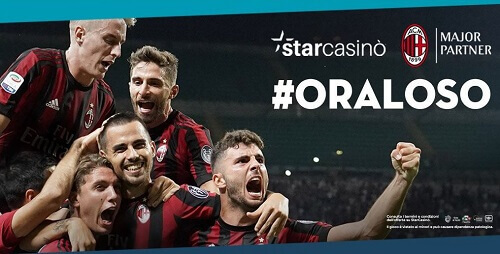 AC Milan Sponsors
The Betsson Group owns StarCasinὸ, the internet gambling brand. The brand will be seen alongside the team's secondary tier sponsors, which are namely:
Banco BPM
Diesel
FrecciaRossa
GI Group
Mediaset Premium
Nivea Men
Snai
TIM
Toyo Tyres
Lorenzo Giorgetti, AC Milan's Chief Commercial Officer, claims that their partnership with the online casino should be considered a natural placement between two leaders in their own respective industries. He goes on to say that the values that both 'leaders' share, was a key point in making the partnership so attractive. However, that was not the only reason for the partnering of these two industry leaders. Giorgetti claims, "A key factor for us to partner with StarCasinò was their impressive innovative activation ideas." In addition, Giorgetti credits StarCasinὸ with enabling fans to join in on the anticipated live-experience events with the club.
StarCasinὸ & AC Milan's Partnership
Anna Vishnevskaya, the local brand manager for StarCasinὸ expressed that the partnership between them and the prestigious soccer team is an absolute honour. She describes AC Milan to be a club that is iconic and constantly evolving. She further expresses, that running through the veins of StarCasinὸ is fun and entertainment, and that is why she urges all AC Milan fans as well as patrons of the casino to join in on some of the initiatives that they have in store. More so, she hopes to have a long and happy collaboration with the team, whereby they are able to "start a new chapter…"
We, at Top Aus Casinos, look forward to seeing what is in store when it comes to this partnership. From great sports betting opportunities to their much-anticipated initiatives, stay tuned for more on this front, because we sure will.