Australian gamblers absolutely love playing the craps casino game. What makes this game so much better is that, with the assistance of our comprehensive guide, you could apply a craps strategy from our list of many and use it to enhance the way you play craps. We will ensure that you know the game inside and out so that you can be well informed and know exactly what it is that you are doing when applying a strategy. Learn more about craps strategies below.
Top Craps Online Casinos
The Best Craps Strategy
The top bets to place when applying a craps strategy would be either the Pass/Don't Pass bets or Come/Don't Come bets. By making use of these bets the house edge will only be 1.4%. Further, the house advantage will continue to reduce by taking or laying odds. The next best bets to place would be: Place 6, Place 8 and every now and then Field 2 or 12, as they would offer you the best winning odds.
All other bets offered by the casino game provide the player with the worst conditions. For example, the "hard-way 4" and "hard-way 10" bets provide the house with a whopping 11% edge. If there is only a single aspect that you take home after reading this guide, it should be to make bets that lower the house advantage to as little as possible. Even though some of the riskier bets are more tempting, there is a higher chance that you will lose.
To ensure that you employ the very best strategy and place the top betting option, we have supplied Aussie players with an outline of what to expect when placing each bet.
Right Way
A good strategy to employ when playing craps would be to become a right way bettor. A right way bettor is when a player places pass and come bets. These bets are thought to be the best of all when playing craps online or at a land-based casino. The reason being is that it lowers the house edge quite significantly.
Pass Line Bets
The pass line bet is definitely one of the most well-known craps bets available. This is because, there are only four possibilities of losing this bet. In addition, the house edge is incredibly low at 1.41%. The ways you can lose this bet are:
When the shooter rolls a two, three or 12 on the come-out roll.
A seven is rolled after a point number has been made.
Come Bets
A come bet is very similar to a pass line bet, however, it is placed at any moment after the point number has made. If a seven or an 11 is rolled by the shooter after a come bet has been placed you win. However, if a two, three or 12 is rolled, you will lose. When any other number is rolled, your own point number is made. This is separate from the pass line bet point number. When making use of this bet, there is more chance of winning than losing.
Wrong Way
Why not try the wrong way craps method? A wrong way bettor wagers against the most of the gamblers at the casino games table making pass and come bets. So, they place wagers on don't pass and don't come bets. The name is coined after the idea that when everyone else is losing, you discover that you are winning, in a way going against traffic and achieving the opposite result to everyone else. When using this tactic in land-based casinos, it can make things quite awkward, that is why gamblers prefer to make use of it at online casinos.
Don't Pass Bets
Unlike the pass line bet, if your come-out roll is a two or a three, you win. However, you lose if you land a seven or an 11. If you hit a 12, a push will be the result. Any other number rolled becomes the point. Before the point is established, the shooter aims on rolling a seven. What makes this betting strategy great is that the house edge sits at a staggeringly low 1.36%.
Don't Come Bets
The don't come bet can be made any time after the point has been made. If a two or three is rolled after the point has been established, you win. If a 12 is rolled, it is considered a tie. Separate from pass line bettors, any other number that you roll becomes your own point number. Even money is paid out by this bet. The house has a 1.41% advantage.
Taking and Laying Odds Craps Strategy
A bet that is rare and specific to craps, is one where there is absolutely no house has no edge. This bet is referred to as, laying the odds if you've already wagered on the Come and Pass bets first. Once the point has been rolled, you are able to place a bet on the odds which will be a multiple of your pass line bet. The most common multiple bet is approximately three times your initial bet. When this bet is placed you are hopeful that before a seven is hit, that you will roll the point again. Odds can also be made on don't pass and don't come bets.
Field Bet
Field bets allow players to bet on two, three, four, nine, ten, 11 and 12. With the best numbers to play on being two and 12. Reason being is that they pay out a ratio of 2:1 and at some casinos 3:1. The house advantage of this is 5.56%, which is higher than the aforementioned bets, but lower than each proposition bet.
6 and 8
If you want to bet on 6 or 8 this bet is a good option, with a house advantage of 1.52%. Contrastingly, the big 6 and the big 8 have a house edge of a whopping 9.09%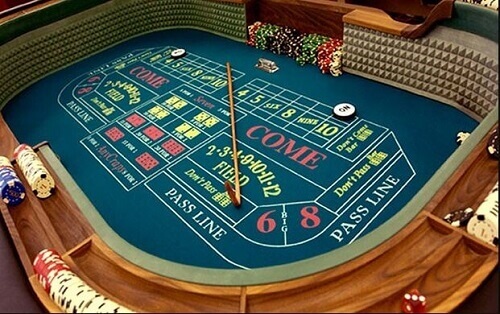 Bets to Avoid
Some bets are very tempting to make, due to the payout amount that they offer. However, it is often found that these are the bets to avoid making as the house edge is far higher. Here are the bets to avoid, alongside the house edge associated with them.
Big 6 and Big 8 wagers, the house edge is 9.09% with a payout ratio of 1:1.
Hard ways 4, 6, 8 and 10, the house edge is 10%.
All proposition bets. Payout ratio can be as high as 30:1, however the house edge astronomically high.
Proposition bets to look out for and avoid:

Any 2 or 12
Any 3
Any 7
Any Craps
Any Eleven
Craps Eleven
5- Count Craps Strategy
This is considered to be a safe and simple strategy. The aim of this strategy is to minimize losses, yet the house edge on each bet remains as is. You should be counting as follows:
The first dice roll has a zero count.
Until a point number of 4, 5, 6, 8, 9 or 10 is rolled the count remains zero. Thereafter, your count moves up to one.
One point per roll is counted once the point number has been established. Until which time you reach a count of 4, irrespective if the number thrown.
When you've reached your count of 4, a point number must then be rolled to gain the fifth point. Landing on any other number will result in an unmoved point count of 4.
Once you have 5 points you can then place wagers on the table.
Craps Strategy in a Nutshell
To recap, the best way to play craps online or at a land-based casino would be to ensure that you place the correct bets. The best bets to stick to would be pass or come bets, alternatively don't pass or don't come bets, laying odds also works very well. Keep in mind to avoid proposition bets! We at Top Aus, hope that our guide has provided you with a good idea of how to tackle and win your next craps game. Check out our tips guide for more help with playing craps online.