Craps is a game that is very entertaining and is known to draw crowds in Australia. It is important to know all about the game before playing, as many people endure losses due to a lack of knowledge. Once you know the ins and outs of the game, it is proven to have odds that are quite fair. Whether you are a novice or an experienced player, these craps tips should improve your gameplay.
Craps Tips to Better your Odds of Winning
Familiarise yourself with all the Craps jargon and rules. Try to do this as soon as you can so that you start playing the game the right way. Without this, you may see losses on the horizon; this could be because you have made bad bets.
Stick to a bankroll that you have set. Keep in mind that a player that is stressed, drunk or tired, will not make informed and proper decisions. So, if you feel that your decision making is impaired, rather quit while you are ahead and continue playing at a later stage.
Ensure that you do not double your bets simply to cover your losses. It is also discouraged that you double your bets on your wins. This is because of the house edge and the fact that you will be likely to lose because of it. Rather consider betting on odds to increase your bets.
Always remember that looking after and managing your funds is the key to being successful, not only in craps but all other casino games.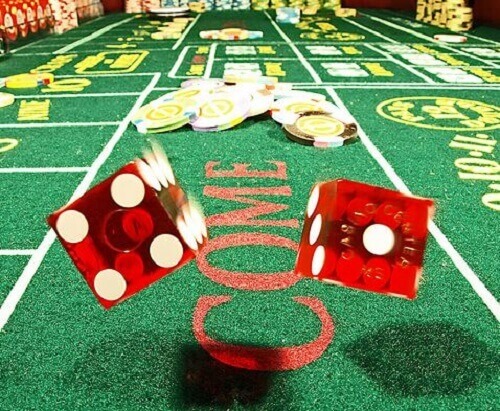 Craps Tips to Better your Gameplay
From money to gameplay, here are a few craps tips to be a step ahead of the game.
Place your money on the felt of the table. Only do this when the dice are placed in the centre of the table, and the puck is off.
When the shooter is holding the dice, you can remove all the chips that you do not want to bet on the roll that is to come.
When playing at a live casino, if you cannot reach the area you want to bet on, you must inform the croupier. Both sections six and nine are spelt out in words so that those on the opposite side of the table do not get confused.
When the puck reads 'off' all; odds bets, place bets, come bets, and buy bets will not be effective. Ensure you are aware of the odds offerings before you make an odds Both online and land-based casinos clearly display the number of odds on offer. Both odds, 9 to 1 and 10 to 1, mean that you will get nine chips for each one that you bet.
Things to Keep in Mind When Playing Craps
Of the five dice on offer by the croupier, pick only two
Don't throw the dice too high- over the heads of other Aussie players
Don't throw the dice too low- people may accuse you of sliding the dice as opposed to throwing it.
Be aware of the bets on offer.
Craps tables have doubles and trebles on offer on different numbers. The tables that offer the best odds are the ones where the 2 and the 12 have doubles on offer.
To sum it up
If you are a new player, keep things simple. Make sure that the bets you place are simple at first. When you feel more confident, then you can graduate to making more complicated bets. Before getting involved, read up about the game. Stick to betting on the pass line if you are a novice and you will be just fine. Click here to read about craps strategies.