A veteran goalkeeper, Wayne Shaw, famous for eating a pie during one of the Football Association (FA) Cup matches, has now been charged by the English FA for the breach in betting rules.
During the 83rd minute of the fifth round Cup tie between Arsenal and his Sutton United team, Shaw was seen scoffing down a pie. The images instantly went viral, reason being is that his choice of food made a statement which vastly contrasts with his million-dollar Premier League opposition.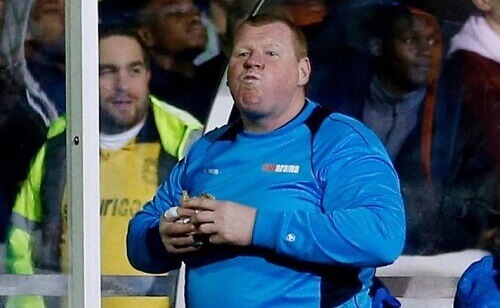 FA and the Betting Offences
It was found out that not only has Sunbet offered 8/1 that he would eat a pie during the match, but it is rumoured that Shaw may have been in on the joke.
At the time, this gag seemed to be quite innocent. However, it led to an investigation by the FA, which inevitably saw Shaw's career come to a dramatic end.
A statement by the FA reads that Shaw, the Sutton United goalkeeper had intentionally influenced the sports betting market during the Emirates FA Cup in the fifth-round tie which was against Arsenal. This occurred on the 20th February 2017, and was a breach of FA Rule E5(a).
They further add that contrary to FA Rule E3(1), "he acted in a manner which was improper and/or brought the game into disrepute."
Shaw's Response to FA Charges
It is found that there were no financial gains on Shaw's part from this episode. However, when the FA launched their investigation, it was compulsory that he resign from his post.
Shaw has been given until 6pm on Friday the 21st of July to respond to both of the aforementioned charges.
In an interview with the BBC in May, Shaw admitted that this whole debacle is taking a large toll on his personally. He claims, "My world fell in. I was in tears. I had never been sacked in my life. It's on my mind every day, it probably will be for a long time." He states that the anxiousness of this event has caused him to go through somewhat of a depression, where he is battling sleep and stress. He further explains that the afternoon after the soccer game he was given two decisions and neither one of them were what he wanted. He was told by the FA either to resign, or get fired.
Shaw states, sadly, that no one has asked for his side of the story. Claiming that the Association's quick response wanted nothing to do with it. In a final attempt to save face, Shaw states that he and his friends have not made any money from the wager. He admits that he got carried away, after being pranked and teased his whole career. He thought it would be a laugh, and added that it was never intended to escalate to this.