Gaz Beadle from Geordie shore welcomed his first child to the world yesterday, January 16. Gaz, along with his girlfriend Emma, seem to be very happy about their newborn. With the British reality TV star expressing that his son is perfect in every way. He goes on to say how surreal it feels to be a father.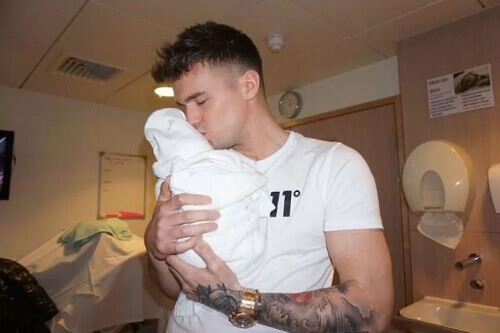 Gaz and His New Son
The 29-year-old expresses that his son is healthy and perfect in every way. The baby boy was born weighing in at 2.81 kilograms. Gaz explains that Emma is fine and that she did an amazing job.
Beadle completely swelled with pride when he held his son for the first time, saying that they will be 'best mates for life.'
His girlfriend, Emma, also shared on her social media that both her and Gaz are absolutely in love with their little man who is absolutely perfect. She adds that the newborn also has long legs.
The two have been dating since August of 2016. The couple have yet to release the name of their bundle of joy.
Gaz and Charlotte
Charlotte Crosby, another Geordie Shore reality star, as well as Gaz's long-term ex-girlfriend, was one of the first to congratulate both Emma and Gaz on their new parenting roles.
It was just under two years ago, in April 2016, that Crosby and Beadle lost their first child together. Charlotte experienced an ectopic pregnancy while Gaz was filming another reality TV show titled 'Ex on the Beach' in Thailand.
Good Wishes
Alongside Charlotte, a few of Gaz's old co-stars also wished him well on the birth of his son. Namely, Holly Hagan expressed congratulations to the new parents. She goes on to say in a rather reminiscent tweet that, in the first series the Geordie Shore crew watched Gaz play soccer with a child on the beach and expressed that he would make a great dad.
Overall
Top Aus is very excited about the reality TV stars welcoming their new son to the world. For the latest in gambling, lottery and trending news in Australia stay tuned to Top Aus Casinos.