Have you ever wondered how your strategy while playing casino games would be affected, if you were to hug a live crocodile first? No? Well, a research team at Central Queensland University (CQU) certainly have. This was one of the research topics that they tackled back in 2010, and finally, seven years down the line their research has been recognised with an Ig Nobel Award.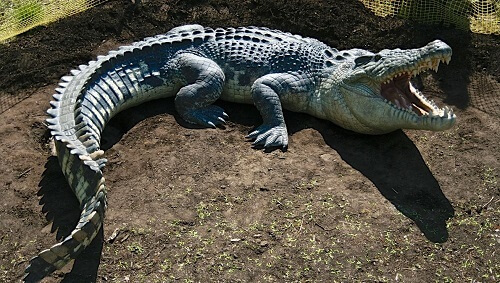 The Ig Nobel Award
Ig Nobel's are awarded by Harvard University, particularly to honour the research that sounds the most unusual, but does, in fact, have proper academic value. The award, as Harvard puts it, works in a way that "first makes people laugh, and then makes them think."
The study, titled, "Never Smile at a Crocodile: Betting on Electronic Gaming Machines is Intensified by Reptile Induced Arousal" while being conducted invited participants to participate in real money gambling on a simulated pokie machine. But wait it gets better, this gambling would be done, only seconds after embracing a live, three-foot-long juvenile saltwater crocodile. But why?
Is this Really Valuable Research?
The whole objective of this experiment was to see how gambling behaviour may change, after being subjected to an adrenaline rush. The question on these researcher's minds was, does the emotional state of a gambler, in fact, change the speed and size of their betting habits.
CQU's, Professor Rockloff admitted that the study was conducted to slyly arouse players before they gambled so that they themselves would not realise which emotional state that they're in. Which in this case, would be physiologically aroused.
Why Crocodiles?
The plain and simple reason that crocs were chosen for this experiment is because they are considered to be the most exciting reptile throughout all of Central Queensland.
So, why did players need to be so excited? Well, studies suggest that when gamblers feel excited, they feel luckier.
The result of this whole experiment showed that those that felt a rush of excitement when hugging the crocodile, would make larger bets. However, those that found the experience traumatic and scary were more cautious when placing their bets afterward.
Conclusion
What can we take away from this experiment? Well, in short, players that are positively excited are more likely to gamble recklessly by placing large bets.
The Nobel awards don't only provide the winners with bragging rights. In addition, they receive a 10 trillion Zimbabwean Dollar Cash prize. Due to the exchange rate, equates to roughly 50 Australian cents. Which is why organisers of the awards ceremony jokingly conclude with 'losers, better luck next time.' Before repeating the same to the winners.