Known as the Sunshine State, Queensland is one of the most beautiful areas in Australia. This is also the place to go see the Great Barrier Reef, which runs along Queensland's coast for 2000km. Gambling is also a very popular past time for the five million residents, with the first land-based casino being built in the mid-1980s.  It's always important to be familiar with the laws regarding gambling so this is what Queensland players need to know.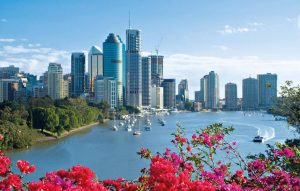 Queensland Online Gambling Laws
All gambling in Queensland is regulated by the Queensland Office of Gaming Regulation and they issue new licences to land-based casinos and racetracks, as well as ensure players are protected.
Like other areas in Australian, the Interactive Gambling Act of 2001 banned Australian companies from operating Online Casino and offering their services to Australian citizens. However, there is nothing in this Act that forbids International Online Casinos from operating within Australia and allows residents to use their casino. This makes it perfectly legal for Queensland residents to engage in online gambling, without any fear of prosecution.
Play at Queensland's Premier Online Casinos
Queensland's Land-based Casinos
Queensland is currently in the process of increasing the number of land-based casinos on offer, in order to hopefully attract more tourists. Having said that, there is hardly a shortage of land-based casinos on offer.
Jupiters Gold Coast: This casino is also known as Jupiters Hotel and Casino and was the first casino to open in Queensland. It offers over 1300 gaming machines, as well as all the favourite table games.
Treasury Casino and Hotel: This particular land-based casino can be found in Brisbane and is as large as Jupiters Gold Coast. There are over 1300 pokies on offer, along with numerous popular table games.
The Reef: The Reef is a smaller casino that was first opened in 1996. It still offers a respectable 500 pokies and the more popular table games.
Jupiters Casino Townsville: Operated by Jupiters Hotel and Casino, this small land-based casino is located in Townsville. It offers just 300 pokies and some table games, but also offers top-class accommodation and entertainment.
Frequently asked questions about gambling in Queensland
Can I legally gamble Online?
Yes you can, the only restrictions are applied to Australian companies that wish to start online casinos. But players are free to gamble online if they wish to do so. Just make sure the online casino is properly licensed and regulated.
How old do you need to be to gamble online?
As with the rest of Australia, a player is required to be 18-years-old to participate in any form of gambling, whether online or in a land-based casino.
Who regulates gambling in Queensland?
All gambling in Queensland is regulated by the Queensland Office of Gambling Regulation. This office issues new licenses to casinos and other gambling locations, while also ensuring that it is done in a safe and fair way to protect the players.
What about the future of gambling in Queensland?
The future is looking very good indeed as more land-based casinos are planned, while the number of Online Casinos is always growing. This makes it easier to find an Online Casino that really works for you, while also increasing competition.
More States and Territories
South Australia | Australian Capital Territory | Tasmania | Northern Territory | Victoria