South Australia, more commonly known as the Wine State, is a bustling hub of history, culture, food, festivals, and top casino entertainment. If you have ever wanted to know more about this beautiful state and its casino scene, look no further than our article on this loved Aussie state.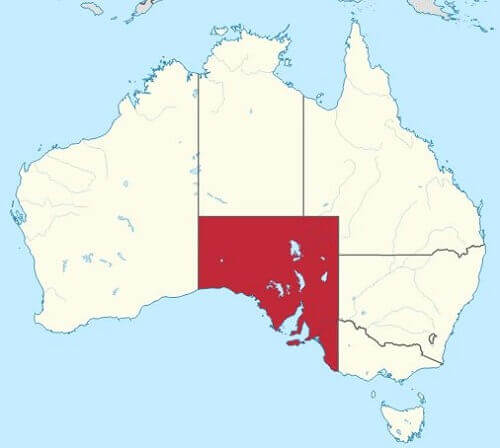 History of gambling in South Australia
South Australia's first evidence of gambling was though horseracing and greyhound coursing in 1838, and trotting in 1880. Once the Lotteries Commission of South Australia and the totalisator agency board (TAB) were established in 1966 the act of gambling legalised and steadied. Adelaide Casino was then opened in 1985 and in 1995 electronic gaming machines were introduced in clubs and hotels. With the legalisation of many gambling acts, X-lotto, PowerBall, scratch cards and Keno became popular regulars.
SA- Fun Facts
In 1872 South Australia's capital city Adelaide became the first Aussie city to be connected through telegraph to London.
The state produces half of the yearly wine total of Australia.
The Coober Pedy mine is the largest producer of opals in the world.
Adelaide is also known as the '20 minute city' as the average travel time between different points within the city is 20 minutes.
Online Casinos in South Australia
SA residents who wish to gamble online will have to do it at international sites as players are not allowed to play casino games at casino sites based in Australia. However, sites based in Australia are allowed to offer their services and advertise to international players only. Players wishing to gamble online should take a look at our list of the top AUD casinos for Aussie players.
Gamble Online at Premier South Australian Casinos
SA- Land-based Casinos
South Australia's capital city Adelaide has all the casino entertainment a player needs. The top land-based casino pick being Skycity Adelaide Casino. The casino offers table games such as Blackjack and Roulette. Pokie enthusiast can also look out for the wide range of machines available on the casino floor. Gamblers can even take part in the weekly Poker tournament. Besides your usual casino scene there are many other forms of gambling in South Australia. Players can indulge in sports betting and horseracing at the Morphettville Racecourse.
Wagering in SA – FAQS
Is it possible for me to gamble online in South Australia?
Yes you can gamble online in SA but only at international sites. Sites that are based in South Aus are not allowed to offer their services to local residents.
What is the legal gambling age in SA?
The legal gambling age in South Australia is 18.
Are there any casino regulating authorities in South Australia?
Yes there are many online and land-based gambling authorities such as the Casino Act of 1997, the Authorised Betting Operations Act of 2000 and the Independent Gambling Authority. These establishments ensure that gamblers are treated to fair practices and that betting houses and online sites adhere to the codes of conduct set by these establishments.
What is the best casino in SA?
The best casino in South Australia is Skycity Casino in Adelaide. The casino offers tons of gambling entertainment in the form of table games and classic pokies as well as other amusements.
More States and Territories
Australian Capital Territory | Tasmania | Northern Territory | Victoria | Queensland