Victoria has always been an Australian area where gambling has been enjoyed. Since the 1800s, gambling has been extremely popular, so it makes sense that it is still a very popular activity for many of the 5.8 million residents. While it was initially horse racing that was the most popular form of gambling, over the years this changes as more casinos opened offering table games and eventually pokies.
The love of horse racing is still present though as Melbourne hosts the annual Melbourne Cup Horse race every year, one of the best known events in the country.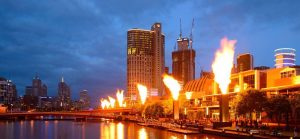 Victoria: Online Casino Laws
Like the rest of Australia, the 200 Internet Gambling Act made it illegal for an Australian company or casino to set up an online casino and service Australian residents. While an Australian company may not be able to do so, the Act does nothing to stop International Online Casinos from offering their services in Australia and the Act also doesn't prevent Australian citizens from gambling online.
At this stage, no one has even been prosecuted for gambling online and this doesn't seem likely to change anytime soon. So feel free to enjoy any online casino you'd like from within Victoria.
Play at Top Online Casinos in Victoria
Victoria's Land-based Casinos
People living in Victoria will have access to one of the biggest casinos in Australia, Crown Casino. Here they will be able to play well over 2500 pokies, as well as all the most popular table games. You'll be able to enjoy Blackjack, Roulette, Craps and poker at Crown Casino. Not only does the casino pride itself on the games it provides, but also on the fantastic entertainment, restaurants and five-star accommodation.
While Crown Casino may be the biggest land-based casino in Victoria, it is not the only one.
The Millers Inn Casino: This is a much smaller casino, offering only 70 gaming machines on the floor and only nine hotel rooms.
The Skyways Tavern: Another fairly small casino, it has a 1000 square feet casino floor and 95 pokie machines. There are no table games on offer but it does offer a fantastic restaurant and bar.
Frequently Asked Questions about Gambling in Victoria
Is it legal to gamble online in Victoria?
Yes it is and you have nothing to worry about if you decide to play at an online casino. The only restrictions apply to Australian companies who wish to set up an online casino, as they will be forbidden from offering their services to Australian citizens.
How old do you need to be to gamble in Victoria?
The minimum age to gamble legally I Victoria is 18 years of age. It doesn't matter if you're betting on horses or playing pokies online, the player needs to be 18 or older.
Is gambling regulated in Victoria?
Of course it is. All gambling is regulated by the Victoria Commission for Gambling and Liquor Regulation. It aims to ensure that gambling is done in a responsible way and that players do not harm themselves doing so, gaming machines are fair and minors do not gamble.
What does the future of gambling look like in Victoria?
The future is looking very bright for all people who enjoy gambling in Victoria. The number of online casinos is expected to grow and mobile gambling is becoming more popular. This will help create more competition between online casinos, which is always good for the players.
Other States and Territories
South Australia | Australian Capital Territory | Queensland | Northern Territory | Tasmania