Amid the hype and the excitement ahead of the Mayweather vs. McGregor mega fight on the 26th of August, Mayweather has released a training video. If that wasn't enough, in an attempt to antagonise his opponent, Mayweather sent this video to McGregor. The sending of this video was intended as a warning, for McGregor to see what he is up against in the fast approaching August fight.
Mayweather and His Training Video
Mayweather looks absolutely undefeatable in his workout video taken at the Ten Goose Boxing Gym in California. Fondly known as Money Man, Mayweather pushed for the billion-dollar fight to take place, and now that it is, he is going to let his fists and abs do the talking.
In his training video, he taunts the UFC champion saying, "Not bad for a 40-year-old that's been in the game for 21 years."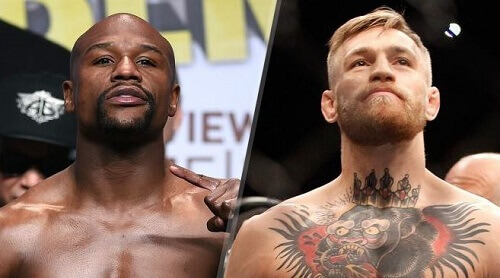 McGregor's Response
Being no stranger to using gym work as an intimidation method, Conor McGregor has painted the walls of his gym with the image of him defeating Mayweather as a way to depict his predictions for the upcoming fight.
Owen Roddy, the striking coach of the Irish fighter, has been appearing in the media and expressing that McGregor will be the cause of one of the greatest sporting upsets recorded. "I have no doubt in my mind he's going to do it. I think it's going to be one of the most insane nights ever." Roddy states. Further going on to say that it will be tough, but if anyone can do it, it will be McGregor.
McGregor's Corner
Amid all the hustle and bustle, UFC fighter McGregor, although considered to be the underdog in this fight, will not have an empty corner when it comes to support. The fighter going up against unbeaten, 50-0, Mayweather, will have his coach Andy Roddy, alongside John Kavanagh, the mastermind behind Straight Blast Gym. Artem Lebov, a fellow UFC fighter will also be there to show his support. Not to mention all of the McGregor fans that will be seated in the crowd as well as in front of their television screens to cheer the Irishman on!
Knockout
It will be interesting to see the outcome of this fight. Will McGregor create one of the greatest sporting upsets? Or will Mayweather maintain his title of undefeated champion? Only time will tell. Maybe it's time for you to get your sports bets in place and maybe you can be as victorious as your chosen winner.