Over a week after drawing the winning lottery numbers, a local Tamworth mom has discovered that she is now a millionaire. A woman who entered the lotto was shocked to find out that she was the winner of the Superdraw on Saturday.
Saturday the 24th of March seemed to be a lucky day for a few Australian lottery players. With the Tamworth women being one of 15, division one winners across Australia. With each winner taking home a whopping AU$1.3 million.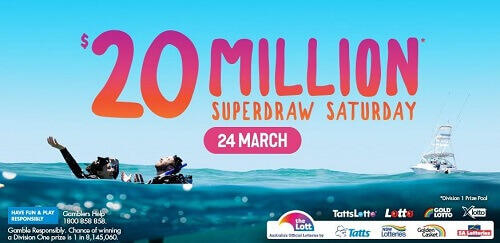 Finding the Tamworth Winner
Due to the fact that the Tamworth local was not registered to Players Club card, it made it difficult for the NSW Lotteries to inform her of her winnings.
When the lottery player stumbled upon the win herself, an entire week later, she spoke to NSW Lotteries telling them of her disbelief. She goes on to say that she was aware that NSW was looking for an unregistered winner, but she did not think that it could be her.
What to do With the Money
The Tamworth winner is already celebrating with her family after finding out that she was one of the lucky lottery winners. She mentions that she already knows what she is going to do with the money.
She says that she is going to retire, considering that she is nearing that age anyway. More so, she mentions that she will assist her children financially. Breathing a sigh of excitement and relief, she says that this money is a life-changing amount and she looks forward to having a great life further.
Tamworth Winning Ticket
Memories News Agency, in Tamworth's 436 Peel Street City Plaza was where the woman purchased her winning ticket. Memories News Agency employee, Cathy Hobson states that she was elated when the winner had received her prize. She goes on to say that so many people come and check their ticket in the shop and she was hoping it was one of them.
The winning lotto numbers for the Saturday Lotto Superdraw 3827 were: 30, 19, 10, 39, 33 and 23 with the bonus numbers being 17 and 34.
Keep up to date with the lottery and Top Aus Casinos; your name could be the next one in the news!