Sic Bo is known by many names including, dai siu, tai sai or hi-lo is a gambling game played with three dice. The aim is to bet on the total value of the dice at each roll. Online Sic Bo is a modern version of an ancient table game that has recently started to become more popular in Australia. A popular casino game, sic bo started to be seen in land-based casinos a few decades ago, before popping up in most online casinos.This is a game of luck and uses dice when played, similar in some ways to Craps.Let's take a closer look at Sic Bo, its history and how to play it.
Best Australian Online Sic Bo Casinos
History of Sic Bo in Australia
The exact origins of Sic Bo are a slight mystery at the moment, but many believe it is a very old game. So, here is a brief history lesson. It originated from China and was also known as Tai Sai or Dai Siu. The Western world first got a taste of this casino game when Chinese manual labourers introduced it to America while working on the Transcontinental Railroad. From there it spread slowly and was used mainly as a carnival game, where winning was far smaller than what you'd expect at an actual casino. The first time the game was seen in a land-based casino was in Macau in the 1970s, before finally appearing in Las Vegas casinos in the 1990s.
Online Sic Bo vs Craps
This is a debate that has been going on for some time now and shows no signs of ending. People love to compare Sic Bo to Craps and discuss and debate the differences and similarities. The biggest difference between the two though is that Sic Bo relies more on chance and luck, while Craps has a little more strategy involved. This is due to the fact that in Craps, there are some wagers that can only pay out once another roll has happened. Both games are great fun though and worth a try for any gambler.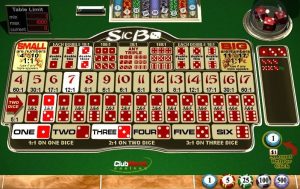 Playing Online Sic Bo in Australia
Sic Bo is a relatively simple game to play, however, some new players get overwhelmed with the wagering options available to them. The outcome of a game of Sic Bo is determined by the roll of three dice and the player must place their bets before the dice are rolled. As for the wagering options, these are the four main wagers that players use but there are several others that are available to more experienced players.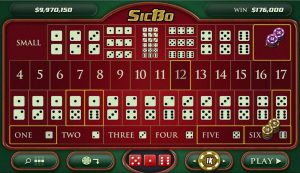 Big and Small
This is perhaps one of the best wagers to place when you're new to the game of Sic Bo. Simply choose between placing a Big bet or a Small bet. The Small bet means that you think the outcome of the three dice will have a value between 4 and 10. The Big bet means you think the value of the dice will be between 11 and 17. These bets have a 48.6% probability and a 1:1 payout.
Odd or Even
When placing an Odd or Even wager, the player is betting on whether they believe the value of the three dice will be an Odd or Even number. Like the Big and Small bets, the probability of winning is around 48% and the payout is 1:1.
Three of a Kind/Alls/Triples
This is the riskiest wager a player can make in Sic Bo. The player is betting that all three dice will land on the same number, between 1 and 5. This bet has a 0.46% chance of winning but the payout is an astonishing 150:1.
There are several other betting variations available to more experienced players, but these previously mentioned options are by far the most popular, especially for new players.