Tabcorp, a betting giant, has recently pleaded guilty to their failure to comply with the Liquor and Gaming Regulations framework set out by New South Wales. They did this by failing to include the words 'gamble responsibly' on the jellybean packaging that they were handing out. Town Hall train stations and Sydney's Martin Place saw these jelly bean packets make their rounds thanks to Tabcorp.
What Were the Jelly Beans For?
This jelly bean giveaway took place on March the 30th with the objective of coinciding with the Championships, Racing New South Wales's premier racing event. This was to be held on the next two Saturdays to follow.
The jelly bean packets read "Nothing is as sweet as a win". Which subsequently resulted in a fine of AU$ 5,500 for Tabcorp.
Jelly Bean Fine
The fining of Tabcorp came about when Justin Field, a Greens MP and an enthusiastic anti-gambling lobbyist, received one of these jelly bean packets. He further contacted and informed Paul Toole, the Racing Minister.
Field, firmly stood by his decision to take the matter further as he explained to Sydney Morning Herald. He further stated that it cannot be tolerated to market gambling as being harmless fun, continuing that it is addictive and will take money from the people and its communities.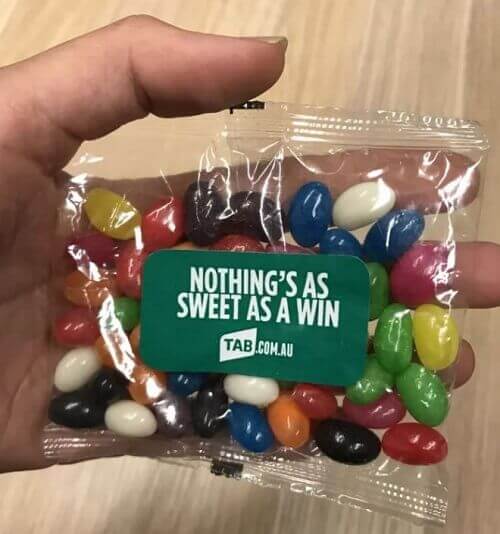 What Now?
After the necessary people were informed and action took place, Field was said to be enraged by the outcome. He felt as though the Tabcorp had received no more than a slap on the wrist for their non-compliance.
The complaints were heard by the Racing Minister and further investigation by the Liquor and Gaming office of NSW took place. The results of this investigation saw Tabcorp plead guilty to the breach of regulation in betting and racing on two counts.
Tabcorp's Response
The managing director of Tabcorp, David Attenborough, has further made a promise to the Liquor and Gaming office. He has sworn that any and all future TAB-branded products and merchandise will feature the words 'gamble responsibly' to warn customers.
In addition, Tabcorp agreed that they would pay all the legal costs for the Liquor and Gaming office, which amounts to AU$10 000.
All That and a Packet of Jelly Beans
Considering their AU$11 billion merger with Tatts, this fine may not seem much of a splurge for Tabcorp. But it definitely is a very expensive outing to the candy store.