The World Series of Poker (WSOP) was held at the Rio Convention Centre in Las Vegas this year. WSOP hosted its $10,000 (AU$12,942) Ladies No-Limit Hold'em Championship to approximately 717 entrants, of which one was Heidi May from Tasmania Australia. May managed to outlast her opponents and walked away victorious with the money and the title of second Australian female to achieve the WSOP bracelet.
The Poker Journey of Heidi May
In 2013, after working in the senior and disability care field, 27-year-old May, decided to take her Poker skills to a professional level. May, is largely an online high-stakes cash-game specialist. However, this WSOP win may have opened new doors for her.
After the WSOP championship May, could hold her head high with the new title of being the second Aussie woman to achieve the WSOP win. Jackie Glazer was the first Aussie woman to claim this title in 2013. May, took away winnings of $135,098 (AU$174 843), this is the greatest win of her career by a mile. With her winnings of the total event having amounted to $170,474 (AU$220,627).
Sporting a long-sleeve, colourful patterned shirt, the Aussie went head to head with her British opponent, Deborah Worley-Roberts, with a lead of 2.5:1 chip. After 42 hands of heads-up gameplay, Worley-Roberts was finally defeated. Although defeated, Worley-Roberts still managed to bag the largest win of her career, totalling $83,459 (AU$108,012).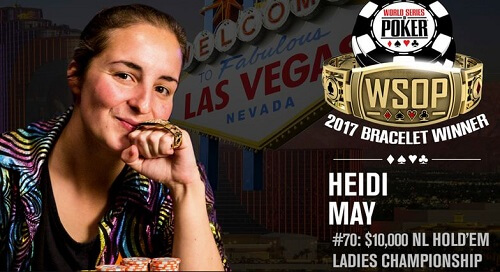 More on the WSOP
The $10,000 Seven Card Stud Championship was won by Mike Wattel who was victorious against Chris Ferguson in the heads-up match held on Monday.
This win allowed Wattel to claim his second WSOP bracelet. He achieved his first WSOP bracelet in 1999, in the $1500(AU$1941) Omaha 8 or Better event.
Further, second place earned Ferguson 114 player of the year points. These additional points are helping him edge closer and closer toward being at the top of that leaderboard.
WSOP Shouting Match
The one men's main event, happened to attract a lot of attention by an unusual shouting match occurring at one of the Poker tables. Needless to say, both players were suspended for their actions.
The men involved Tom Bracy and Lazaro Hernandez received personalised ramifications for the spectacle that they made. The consequences saw Bracy receive one round suspension, and Hernandez a suspension of three rounds.
The quarrel all started with Bracy expressing his distaste for the fact that during the event Hernandez was on his phone. Due to his distaste, Bracy asked that the dealer take control of the poker casino game, which is where the shouting began.