Hard Rock has contacted Australia's local government and the respective tourism leaders about a casino licence for the Gold Coast. They are interested in building an entertainment integrated resort that would serve as the second casino in the region. The idea is to develop a venue that will host a number of non-gambling facilities.
However, this will not be the first introduction of the brand in Australia. Hard Rock International owns a Hard Rock Café in the area of the Gold Coast. This establishment has been in operation for more than 20 years. They are now interested in expanding their footprint in Australia.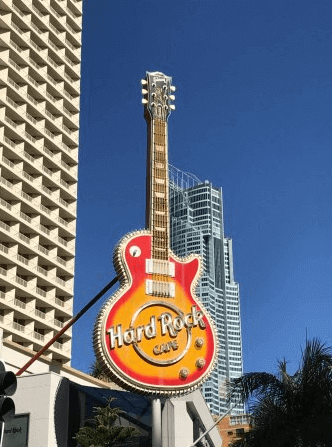 Becoming Part of the Global Tourism Huns
Last year, the Australian government introduced the Global Tourism Hubs plan for Queensland. The purpose of the project is to draw international developments and to improve the tourism industry.
Hard Rock International is interested in the idea hence, they have opted to introduce an integrated resort instead of a strictly casino offering venue.
Gold Coast Government Accepts the Development
Tom Tate, Gold Coast Mayor, has said that he welcomes the development of an integrated resort that will include entertainment facilities, dining options and hotels.
Minister Kate Jones made a statement before the news about Hard Rock surfaced, saying that the government will not allow casinos to add more poker machines. This decision is in an effort to reduce playing pokie machines. However, Minister Jones has said that even though there will be no additions of poker machines, they still support the development of an integrated resort.
In reference to the above mentioned, Mayor Tom Tate has said that there might be a way to include slot machines for potential casinos despite the ban.
One Casino in the Gold Coast
Currently, The Star Gold Coast is the only casino that is operating in the area. The casino was formerly known as the Jupiters Hotel and Casino.
The news that the government wanted to approve a second casino license circulated last summer. A Chinese investment company showed interest in building an AU$3 billion worth project. However, the plan was rejected. The Australian government may open a bidding process to award the second license.