On Tuesday the 11th of July, Los Angeles saw Conor McGregor and Floyd Mayweather light the fuse to the bomb for their cross-combat super fight. The tension could be cut with a butcher's knife, to which they spilled profanities toward each other in their face off meeting. This formed part of the launch of their global promotional tour.
Support for McGregor and Mayweather
Over 11 000 supporters stood like tinned sardines in the Los Angeles Staples Centre for their first live showdown. Instead of beating each other with boxing gloves, they hit hard with words in the midst of the mixed martial arts performance.
With their fight on the horizon for the 26th of August 2017, in Las Vegas, it is predicted to be one of the richest fights in history. This after a year-long limbo as to whether or not the fight would even happen.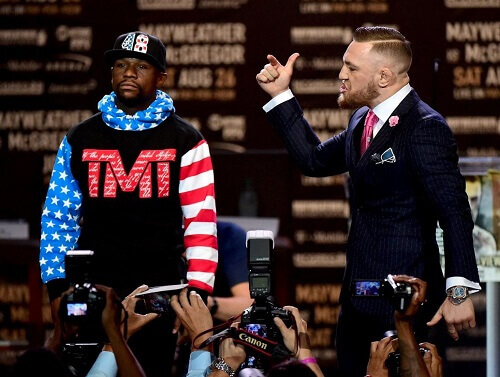 McGregor's Suit
As McGregor strutted up to the microphone, looking the part in a three-piece pinstriped suit. He claimed that the suit formed part of his very own clothing line, to which the pinstripes feature a string of two-word expletives.
The suit set the tone for an absolute spectacle of a show that saw the two fighters let rip, as a river of expletives and profanities flooded from their mouths. This clearly delighted the fight promoters as they looked to sell ringside tickets at around US$10 000 (Around AU$ 13 000).
McGregor took the mike, throughout his speech he cracks up, laughing that Mayweather can't even afford to wear a suit. Considering Mayweather sat there in his tracksuit. Laughter came from the green-shirted McGregor fans that managed to find themselves a space in the lower levels of the basketball arena.
He further stated how he would be victorious over Mayweather, claiming that his perfect record would be no more.
Mayweather's Response
It wasn't long after McGregor's speech that Mayweather had the microphone, to which he retaliated by hurling his own set of profanities toward McGregor. During Mayweather's retaliation, he threatened to knock McGregor out, to which the Irishman retorted that Mayweather hasn't knocked anyone out in 20 years.
In his speech, Mayweather responded to each point that McGregor had pointed out and tried to knock them down. Mayweather too, confidently prematurely predicted his victory against the 28-year old.
Behind the Scenes
After the verbal spat was over between the fighters, Mayweather spoke to reporters in a very calm and collected fashion. He claimed that the trash talking was a bid to get a sold-out arena for when the fight takes place. However, he did state that he feels he won the verbal war, as McGregor sounded quite rattled during their photo opportunity.