As rugby star, Ben Hellewell was getting ready for a nice romantic night on the town with his Tinder date; he had no idea what was in store for him. Upon his arrival at the restaurant, Hellewell waited around for his date, only to find out that his 90-kilogram teammate dressed up in drag.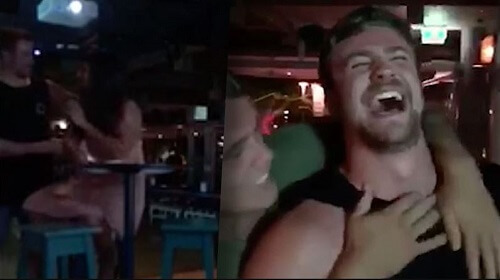 Rugby Player's Unfortunate Tinder Date
After realising that he had been duped by his teammates, Hellewell, the sporting star, seemed somewhat exasperated. Reason being is that the 25-year old has sent through multiple 'X-rated' text messages to the supposed lady he'd been expecting to meet.
However, that is not exactly how things went down. When he entered the Cairns bar in Australia, he was met by none other than his team mate, Matt Russell, who was sporting a pink dress and a black wig.
Rugby Star Has Viral Embarrassment
Not only was Hellewell humiliated, but to make matters worse, the whole thing was caught on camera by other World Cup squad members. Hellewell gripped Matts shoulders before hurling expletives at the team.
It was during the relaxation period between tournament games of the rugby league team, when Matt came up with the prank. With a source saying that the 25-year old was hit harder by the prank than by any rugby tackle. The prank was apparently all put in place to teach the rugby player a lesson, after he got off of the flight to Aus in a rather drunk state.
What Now?
We at Top Aus, are definitely all up for sports betting. However, in this case we do not think that, the odds of another Tinder date happening in the rugby star's near future, are too high. To keep up to date with the latest trending news in Australia, stay tunes to Top Aus Casinos.