Winx, an Australian champion mare, is currently preparing for her third victory at the Cox Plate. According to her trainer Richard Freedman, the secret to her success is revealed.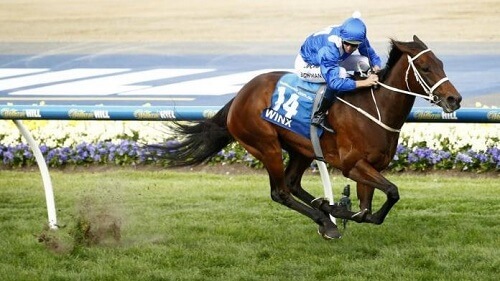 Winx's Success Story
Winx claimed her 21st straight win at the Turnbull Stakes on Saturday. Her success at Turnbull Stakes now gives her the opportunity to rival Kingston Town, another worthy racehorse, to which she is looking to take out her third Cox Plate. Freedman explains that her victory on this past weekend just reiterates how she is in a league all of her own. He boasts, "I can't see anything else that can beat her."
The reason Freedman made such a statement is because he believes that the horses she was up against were the best and she seemed to pass them 'like they were glued to the running rail'. He further claims that, "She just clicks into top gear" and sets a pace that other horses can't keep up with.
Success of Winx, Very Unique
Winx has already gone down in the history books with her 21 consecutive wins. Freedman claims that her success is thanks to a unique feature that allows the mare to dominate each race. The trainer explains that unlike most race horses that lengthen their stride to pick up speed and maintain their cadence, Winx, manages to accelerate her cadence.
What this means is that she takes more strides as opposed to lengthening her stride. Which according to Freedman is something that other horses cannot manage to do.
Plans for the Future
On the 28th of October, Winx will be looking at adding to her collection of victories at the Cox Plate race. She is looking to make this her third consecutive win in a row. Further, plans for Winx to travel to Europe in 2018 are a possibility as a European campaign has been revealed.
We at Top Aus Casinos truly hope for more successes in Winx's future. It looks like she's the one to be betting on when placing horse race bets.