The Chelmsford Stakes are said to be anything but over. Winx, a champion mare, is being challenged by the trainer of another horse. This trainer claims to be the only one that could possibly knock the mare from her winning podium.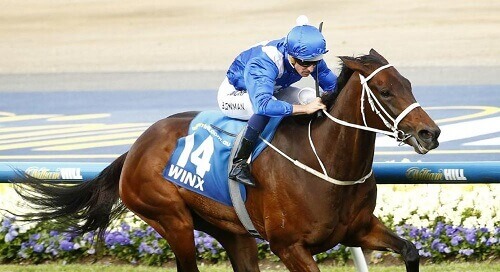 Winx Chases Winning Streak
Betting on Winx opened at AU$1.06 favourite for the Chelmsford Stake. This was after Wednesday's announcement that the mare will be jumping from barrier three in her bid to take her winning streak up to a whopping 19 wins.
Considering such a great winning streak, sports bettors were quick to start placing wagers on the horse. With one punter getting very excited and placing a massive AU$63000 bet on the champion mare, for a potential return of just under AU$4000.
Sydney's Randwick Racecourse will see Winx brush shoulders with 11 rivals in Saturday's Group 2 feature (1600m). This is more rivals than she has faced in her prior four starts. Yet, this is considered to be far easier than the Warwick Stakes assignment that she faced two weeks ago.
Sense of Occasion, Cup winner of Doomben, is the only horse that is ranked under AU$30 in TAB's market. He will be starting in last place in Saturday's race. However, his trainer, Kris Lees, says that he will be racing for second place.
Winx, Chelmsford Stakes Preparations
Rosehill will see Winx kick off her groundwork for the Chelmsford Stakes with a Thursday morning gallop. The champion mare will be wearing earmuffs for the very first time during her first run in the Chelmsford Stakes. In Warwick Stakes, she missed the start by four lengths. To which she had to be asked to put in a real effort to get rival, Foxplay down the straight.
Bets
All of our sports betting and horse race betting fans want to know how their favourites are faring when it comes to betting. So here is a list of horses and where they stand on the betting log:
Winx – AU$1.06
Sense of Occasion – AU$21
AU$35 for the following horses

Antonio Giuseppe
Harper's Choice
Life Less Ordinary
Red Excitement
Sarrasin

Chocante – AU$51
Who Shot Thebarman – AU$71
Lasqueti Spirit – AU$101
Allergic – AU$151
Libran – AU$201