Australians have absolutely fallen in love with horse race betting. Horse race betting was at one stage only made available to the elite. However, times have changed and this sports betting variant is now available to anyone and everyone.
Horse race betting is a lot of fun for Aussie gamblers, and can result in lucrative payouts if you bet carefully. There are a variety of horse race tournaments that are available for betting on globally.
Horse Race Betting Online
To make horse race betting as easy as possible online, we at Top Australian Casinos have put together a step-by-step guide for your convenience.
Select a race that is legitimate.
Choose a Horse, Jockey, or Trainer.
Displayed on the side will be the odds of your selection.
Select one of our top recommended online casinos with which to wager.
Click on the currency you wish to use. In this instance, you will select AU$.
State your bet.
Place the bet that you have stated.
Thereafter, depending on the website you have selected to place wagers on, results will immediately be displayed. The funds thereafter, depending on whether you won or lost will instantly be taken off or added to your online casino account.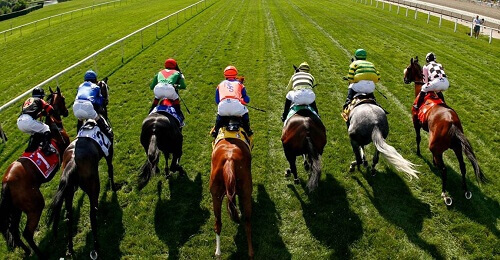 Horse Race Betting Types in Australia
There are many different types of bets that you can make when wagering on horse racing. Below are a few that you can familiarise yourself with when you participate in horse race betting.
Win
This is the simplest bet, whereby you bet on the horse that you think will win.
Place
Whereby you place bets on which horses will place 1st or 2nd.
Show
The horse that you have wagered on must place in either 1st, 2nd or 3rd place.
Exacta
This is when a you wager on two horses, but these horses must come in 1st and 2nd place as precisely predicted by you.
Exacta Box
This is when you place bets from between two and eight horses, each with their own wagering cost, with the same rules as an exacta bet.
Trifecta
When you place a bet on three horses and they are predicted to come in 1st, 2nd and 3rd place consecutively.
Trifecta Key
Whereby you select three horses. One of these three horses must be chosen to win, this is also known as your key horse. Your key horse must then be followed by your other two chosen horses.
There are multiple combinations that can be betted on when using a trifecta key bet. You can have your key horse followed by between three and seven other horses, each of these will have their own wagering costs assigned to them.
Trifecta Box
You bet on three horses each of which must finish in 1st, 2nd and 3rd in any order.
There are multiple combination wager costs assigned to each type of trifecta box. Trifecta boxes range from a three-horse box to an eight-horse box, with a different betting cost assigned to each.
Superfecta
Making an exact prediction on four horses, betting on exactly which horses will come in 1st,2nd,3rd and 4th place consecutively.
Superfecta Key
Where four horses are bet on, of which one is chosen to win, and the other four can place in 2nd, 3rd and 4th place regardless of the order.
A multiple betting cost combo can be applied to the Superfecta key, whereby the key horse can be paired with between three and seven other horses. Each of these combos have their own betting cost applied to them.
Superfecta Box
Four horses are wagered on. One horse is selected to win and the others may follow in any order.
The Superfecta box can have combo wager costs applied to it. Allowing you to bet on a four, five or six horse box. Each including their own wagering cost.
Time to Cash out
Horse race betting is a great way to get involved in a great sport, while possibly winning money! If you wish to learn the wagering amounts of each multiple combination wager cost, you can easily check this on your online casino. So, get betting on this amazing sports betting variant and may the best horse, jockey or trainer, win!
Popular Sports Betting Pages