Two weeks ahead of the 2018 FIFA World Cup in Russia, all three Saudi referees have been booted from the tournament. This is because Fahad Al-Mirdasi, the full ref, has been found guilty of match fixing in the Saudi football league. The two assistant referees, Abdulah Al-shalwa and Mohammed Al Abakry, will also be going home.
While the assistant Saudi referees were not accused of wrongdoing, FIFA's policies demand it. According to the soccer governing body, it is their 'overall philosophy' that a team of three match officials must be appointed during preparations.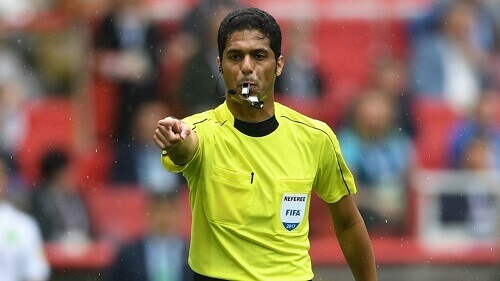 Referees Accepting Bribes
Al-Mirdasi is the second referee in two years to be banned for life by FIFA. In 2017, Joseph Lamptey of Ghana was also banned for 'unlawfully influencing match results'. He was apparently influenced by a 'gambling syndicate'. Lamptey refereed the qualifier between Senegal and South Africa in 2016, where South Africa was awarded a questionable penalty. FIFA then ordered that the game be replayed.
While match-fixing is not uncommon in sports, it's still a big concern for this year's World Cup in Russia. According to experts, referees are vulnerable because of their low salaries. Football players may be some of the highest paid athletes in the world, but officials are not. In the UK, top officials in the Premier League earn only £75 000 (AU$132 000) a year.
Match-Fixing Concerns for the World Cup
In March, gambling regulators and operators met at the Stamford Bridge stadium. Here they warned that match-fixing was a possibility. This is because of the 'sheer volume of bets' usually placed on international events like the World Cup. Due to this, they also warned that spotting 'suspicious patterns' could be difficult.
Of course, with so much riding on teams, there could be a higher risk of match-fixing. However, being banned for life would probably turn most teams off of the idea.