In recent news, Tiger Woods is said to be stepping back on to the green and joining in on the life of competitive golf once more. Oddsmakers are ecstatic to hear the news.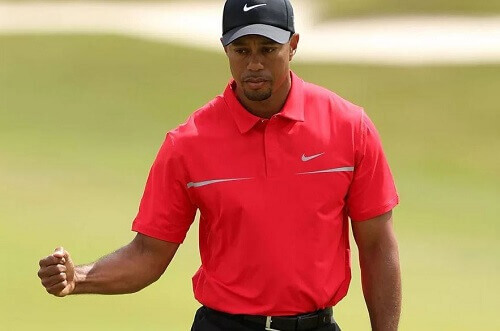 Tiger Woods Back in the Game
It is said that among 18 golfers, Woods is scheduled to tee up at next month's 'Hero World Challenge' in Albany in the Bahamas. This event will be benefitting many different charities and organisations, with the Tiger Woods Foundation being one of them. It is scheduled that round one will kick off on the 30th of November.
It will be quite a task for Woods to get back into the swing of things, considering that his last tournament, the Dubai Desert Classic, in February was the last time he hit a tournament shot. Woods recently posted a statement on his website whereby he expressed appreciation to his fans for their steadfast support during the period of his injury.
Sportsbooks are Delighted
Sportsbooks are absolutely delighted to hear that Woods is returning. This is because, whenever Woods participates in an event, the betting activity is far higher. This is especially so for non-major and non-PGA Tour events, like the Hero World Challenge. Sports betting, especially Golf betting is about to get far busier thanks to Tiger Woods.
Jeff Sherman, a golf oddsmaker for Westgate SuperBook stated that golf betting is largely "driven by the amount of TV coverage and exposure".
What are the Odds?
Woods is the sole player in the world to be ranked No.1171 and still receive a full betting specials page. Sportsbooks are ecstatic over the return of Woods. They can now take advantage of the situation and rake in as many wagers as possible. Reason being is that it is not certain as to how long his return will last.
So here is a look at what the Sports books are setting the odds to be:
Sky Bet has placed Woods at the longest odds of the 18-player field at 50-1 to win outright.
The shortest sits as follows:

Jordan Spieth and Justin Thomas: Joint odds of 6-1
Dustin Johnson: Odds of 7-1
Rickie Fowler: Odds of 10-1
Justin Rose: Odds sit at 11-1
As predicted by Oddsmakers, Woods has a better shot at withdrawing at 7-2, than what his odds are of winning. Woods odds thus stand at:
Top 10 finish: 11-4
Top 5 finish: 7-1
Bogey-free during the opening rounds: 16-1.
Previously, Tiger Woods competed in the Hero World Challenge hosted in 2016. He finished 15th with rounds of 73-65-70-76. He managed to take home a prize of $107 000(AU$139549,40). However, this was the only funds he took home from competitive golf within 2016.