The general consensus for Las Vegas oddsmakers is that T-Mobile Arena will see Mayweather take home yet another win this Saturday. However, as of late, oddsmakers seem to be somewhat hesitant. What if McGregor does win? This will result in a great loss for said oddsmakers.
Oddsmakers Show Concern
If Mayweather is to walk out of the area victorious on the 26th of August, he will be able to add to his flawless record. Being able to maintain a perfect score of 50-0. If this is the case, all of the sports bets that were made on the Irish UFC fighter will become worthless.
However, what if this fight is in fact history in the making? What if the tables turn and Mayweather experiences the very first loss in his boxing career? To make matters worse for Mayweather, if he were to lose, it would be to a person that has never put a foot into a professional boxing ring.
These are the thoughts that have been running through the minds of sports bettors. If McGregor does win, millions of dollars will be lost not only in America, but worldwide as this is now a global spectacle. Should McGregor win, it would go down in the history books as one of the worst sports betting events in Nevada history.
With less than a week leading up to the much-anticipated fight, tensions of oddsmakers are running high.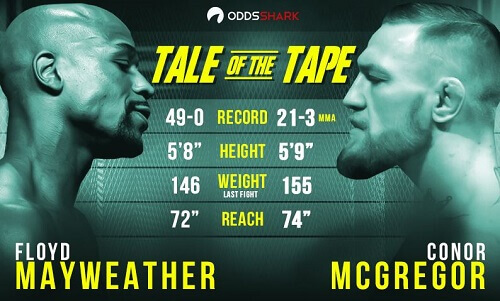 Oddsmakers Odds
It is said that for every bet made on Mayweather, who is considered the favourite, there are about 16 being placed on McGregor, the underdog. Although the big bets have been placed on Mayweather, more bets and more money has been placed on the UFC fighter.
Nevertheless, SuperBook is maintaining the odds of the favourite at -500, and the underdog at +400. Oddsmakers have reluctantly confessed that should McGregor be successful in his endeavours to smite Mayweather's perfect fighting record; they will lose millions of dollars.
More so, Money Mayweather himself states that he is confident. However, he further expresses that McGregor has an advantage with his age and height. This being said, Mayweather reassures that there is no way that McGregor will pull off a victory.
If that wasn't enough, Mayweather has confidently promised Jimmy Kimmel that if he does not win, he will refund any losing bet that the talk show host has placed on him.
All-in-all
We at Top Aus Casinos, are looking forward to the outcome of this fight. As it gets closer and closer to the wire, we will keep our Aussie readers in the loop and hope that the odds are in your favour.