Rumours, much like Mayweather's punches, have been flying around that Money Mayweather may enter the Mixed Martial Arts, MMA octagon. Conor McGregor and Floyd Mayweather went head to head last year on Mayweather's home turf, the boxing ring. However, it has now been confirmed that Mayweather is undergoing MMA training.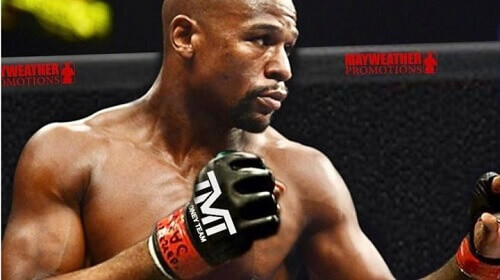 MMA Octagon Odds
The wounds sustained from the boxing fight have just healed, only to hear that Mayweather now plans to take on McGregor in the MMA Octagon. The mere mention of the two battling it out again, but this time in the fighting style that McGregor is practiced in, has got Westgate Las Vegas bookmakers laying out the odds already.
So far, if the two were to lock horns once more, the sports betting odds sit as follows:
McGregor is now the favourite at odds of -1000
Mayweather now the underdog with odds of +650.
What does this mean? Well, if you were to place an AU$100 bet on Mayweather and he won, you would receive a payout of AU$650. However, if you were to bet AU$1000 on McGregor and he won, you would only take away AU$100 on top of your original bet.
The reason for the change in favourites now, is because the fighting styles have changed. When it was boxing, Mayweather would be the clear favourite having won 50-0 boxing matches. Whereas when it comes to MMA, Mayweather is an unseasoned fighter, and McGregor has a track record of 21-3 wins in the MMA Octagon.
Will Mayweather Step into the Octagon?
The question of Mayweather entering the MMA octagon was posed in December last year already, but it was immediately extinguished by the boxer. However, the thought of making the crossover has not died completely. Reason being is that Mayweather posted videos on social media where he created speculations about whether or not he would try MMA.
If that wasn't enough, recently, last week, the undefeated champion boxer mentioned that he will soon be commencing with his MMA training. He explains that he is training under Tyron Woodley a UFC welterweight champion. He went on to say where he currently stands with his MMA skills and assesses how long it would take him to get where he wants to be.
Mayweather states currently, that he would need longer than three months' worth of training. He states that he wants to do things the right way, even if it takes between six and eight months. Further the boxing champion mentions that when it comes to wrestling, he would be at a seven on a scale of one to ten. He wishes to take this number to about a nine. He said when it comes to his hand game, he is very strong saying that he sits at 100 on a scale of one to ten. Lastly, he mentions that his kicking is at around four out of ten, so this is something that needs work to take him to the next level.
It will be interesting to see whether or not the two will step into the MMA Octagon and battle it out once more. Stay tuned to Top Aus Casinos, and we will keep you up to date with the latest casino and trending news.