Yes, they are at it again! It hasn't been long since Mayweather and McGregor were fighting it out in the ring in what seemed to be the biggest and most publicised sporting event in boxing history. From the match, despite being the losing party, McGregor managed to take home a whopping $130 million (AU$169.45 million). Now, rumours of a rematch under MMA rules have been floating around.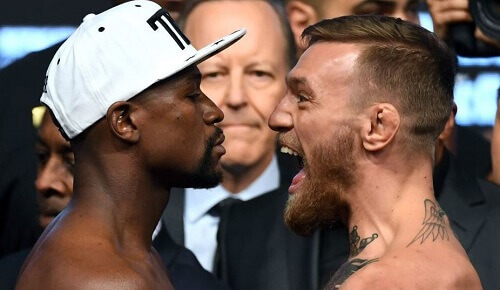 Talk of Rematch
Even though it seemed to be smooth sailing for Mayweather as he managed another victory adding to his pristine unbeaten record of 50-0. McGregor now feels that it is time to try it all over again.
In an interview, McGregor states that while talking to Mayweather, the unbeaten boxer expressed that he would be willing to fight under the rules of MMA. Additionally, the Irishman states that regardless of the format in which they choose to fight, he is sure that he will be the one in the winner's circle.
"An Evening with McGregor"- Interview
During the "Evening with Conor McGregor" interview in Glasgow, McGregor blurted out expletives expressing his discontent with the fact that Mayweather is retired. The Irish fighter confidently expresses that after his last fight he has learnt a lot and knows that if they had to go again, he would be the one to get the win.
McGregor explains that he will not be calling him out of retirement. Instead, he claims that he will sit back and see how long the boxing champion lasts with his latest income. Further, the Irishman wonders if he'll be receiving a call from Mayweather. Reason being is that he claims, before the much-anticipated event that occurred in August, Mayweather said that he was keen to try out an MMA fight next.
The MMA fighter says that he earned the respect of boxers and boxing fans, by putting himself out there and changing his style. So, he is now challenging Mayweather to 'style over to my side and earn our respect now.'
A Look at the Numbers
McGregor was recently asked if the sum of his millions for the fight has yet been cleared in his account. To which he responded that, along with his auditors, they are still very much in the game of counting the money.
We, at Top Aus, look forward to hearing what comes of this challenging remark from McGregor. We are sure that sportbooks and sports bettors are already licking their lips and the mere prospect.