The Crown Casino in Melbourne is a land-based casino that exudes sophistication and class. When selecting this casino as your entertainment destination you will notice that the service is impeccable alongside breath-taking views. In addition, Crown is ideally located as it is situated in the heart of Melbourne. To make things better, it is a very short walk from the casino to the Eureka Tower as well as the Melbourne Aquarium. Should you wish to partake in some retail therapy, the National Gallery of Victoria and Bourke Street Mall is within 2km of the casino and hotel.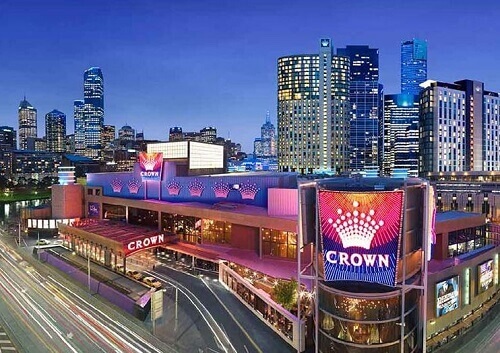 History of Crown Melbourne
This brick and mortar casino was originally established in 1994, at the World Trade Centre. This location was considered a temporary one while the actual casino was being built. Further, the actual location in Southbank opened its doors to the public in 1997. The casino has had many stand out evenings, one of which featured actress Rachell Griffiths' infamous topless run through the casino on the opening night.
All About Crown Melbourne
To find out all you need to know before you enter this classy hotel and casino, its best that you read our guide below:
Opening Hours
The casino is open 24/7. However, they do close their doors on Good Friday, Anzac Day and Christmas. On these specific days, the casino closes between 4am and 12pm. Thereafter, the casino is open once again. Apart from that, players have a chance to gamble at their leisure any time of the day, any day of the year.
Dress Code
Crown Casino is a prestigious brick and mortar gambling destination, in saying so, they like to keep a classy and professional look about them. To do so, they ask for their patrons to dress respectively. So, what is considered respectful clothing? Well the casino simply asks patrons to dress neatly. However, there is a list of clothing items that are not acceptable at Crown. If you happen to be wearing one of the following items, the casino staff reserves the right to deny you entry. Please note that exceptions may be made for the prohibited attire below, should special events take place.
Torn or ripped clothing
Dirty clothing
Camouflaged clothing
Tank tops for males
Sporting attire
Working attire and boots
Beach sandals, untidy or dirty footwear
Any Ugg boots or gum boots
No caps, hats or bandanas
Clothing with offensive words or design is prohibited.
Crown Resort
This casino resort boasts three different hotel towers, namely the Crown Towers, Crown Metropol and the Crown Promenade. Here is what you can expect to find at each location:
Crown Towers
5-star luxurious hotel
Located in the Crown Entertainment Complex
481 rooms available to guests
Over 38 floors of Villas
Based on the banks of the Yarra River
Crown Metropol
5-star hotel
Its 658 rooms are scattered over 28 floors
This is considered to be one of Australia's largest hotels in terms of sheer number of rooms
Crown Promenade
5-star hotel
465 rooms over 23 floors
Based in the block behind the Crown Towers
In addition to their luxurious hotel and accommodation areas, patrons are spoilt for choice when it comes to spa treatments. More so, Crown hosts live theatre, concerts, sports and more to keep you entertained during your stay. If you're looking for a bite to eat you have 29 different restaurants to choose from.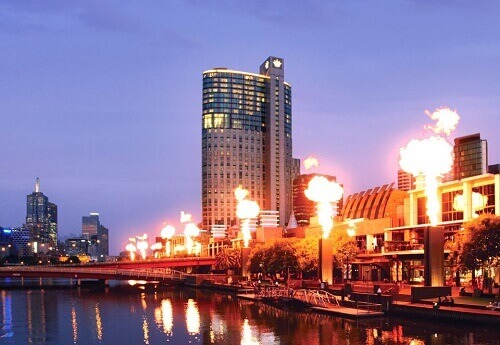 Crown Casino Games
Crown Casino offers a host of casino games for patrons to enjoy. Six of the main games that they feature on their casino floor is; Baccarat, Blackjack, Craps, Pai Gow, Poker and Roulette. Additionally, this casino is well known for its variants on Roulette, namely Rapid Roulette. Further, they offer a variety of Poker variants, specifically the three-card poker and Texas Hold'em.
There are many major attractions available at this casino, one being that they host many major competitive poker events in the Asia- Pacific region. More so, the casino is host to the annual Aussie Million event which is the richest Poker event in the Southern Hemisphere.
Crown Casino Melbourne
After looking at what the casino has to offer, it is definitely worth a visit. If you appreciate class and sophistication then Crown Casino Melbourne is certainly a place to pin on your map. Crown has you covered, whether you want a night out, great eats, or world class accommodation.