Towards the end of July 2018, MGM Resorts International became the very first official online casino gambling partner of the NBA, after the two signed a ground-breaking deal.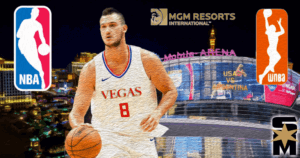 This deal between the major US sports league and the world-renowned casino site is the first of its kind. For years, major sports leagues avoided any form of association with online gambling. Nonetheless, this year, the Supreme Court overruled the federal law that banned all forms of sports betting in the United States of America and this paved the way for significant changes in the realm of sports betting worldwide.
Details of the NBA & MGM Sports Betting Deal
The new deal will permit MGM Resorts International to make use of official data from NBA's betting forum and also work with other sports leagues to detect and avoid fraud or match-fixing. The online casino operator also has the right to use NBA and WNBA logos as well as work with the sports league's marketing department.
The commissioner of the NBA – Adam Silver, has long reported to the media that sports betting will one day become legal in the U.S. In 2014, he then started calling for the legalization and regulation of sports betting, and the federal prohibition was finally struck down by the Supreme Court in May 2018.
Since then, the NBA was enthusiastic about being the first official sports league to benefit from the new law. The agreement between the two companies is a three-year deal, which will see the online casino operator pay the sports league about AU$25 million. This will be for the rights to use logos, data and highlights relating to the WNBA and NBA.
Overview
Though the deal was announced a couple of days ago, there are still numerous pending issues that need to be ironed out. It's still not so clear as to whether MGM Resorts will be permitted to provide online sports betting on NBA's developmental league and summer league.  Keep it locked here at Top Australian Casinos and we will definitely keep you posted with the latest developments.