To commemorate Discovery channel's upcoming Shark Week, Michael Phelps has taken on a rather odd challenge. Phelps has agreed to have a swimming race against one of the fiercest underwater creatures, the great white shark!
Although this may seem like fake news, it is very real.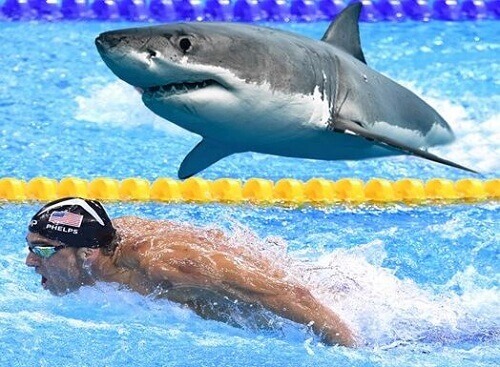 Michael Phelps
Phelps is a world-renowned swimmer, being the most decorated athlete of all time. Discovery was recently recorded the race between Phelps and the great white, to kick off the Shark Week. Viewers will only have access to this on the 23rd of July at 8pm Eastern time. The episode will be titled 'Phelps vs. Shark: The Battle for Ocean Supremacy'. To increase his speed and make the odds a little fairer, Phelps wore a rubber fin while partaking in the race.
Due to the hype that has been built up over this race, online sportsbooks have decided to get involved. The sportsbooks have very little faith in Phelps and have practically stated that there is no chance that Phelps could be victorious. In fact, faith in Phelps is so little that sports betting odds are sitting at +325 to Phelps and -550 to the great white.
This ultimately means that should you place AU$100 on Phelps and he wins, you will receive AU$325 return. However, if you were to wager AU$100 on the shark, and it is victorious, your payout will be a mere AU$18.21.
Whose Fin is Faster?
Both the shark and Phelps were times to do a 100-meter swim, separately, to get an idea of who would swim faster.
Discovery put together this whole race, to get viewers interested in the launch of shark week. Shark week was originally all about correcting the misinformation given to humans about this misunderstood creature. However, it has since taken on a far more entertainment orientated role, to enhance viewership.
All in all
All in all, we at Top Aus Casinos, will ensure that we keep our readers up to date on this matter. So, that even if you miss the race, you can read about it here!