ClickandBuy is a trusted and safe financial services provider. Throughout the years this service has become widely popular at online casinos. The financial service provider launched its very own e-wallet service in 1999. With over 15 years of e-wallet services under their belt, they have now announced that their e-wallet service is no longer processing transactions.
Over 13 million clients swear by this premium online payment method. The user-friendliness is what put the payment method on the map. Their account registration and transaction processing set up are as smooth as butter.
What Is Happening with ClickandBuy?
ClickandBuy announced that as of 1 May 2016 they will no longer be processing any more payment transactions. Hence, you will not be able to deposit any new funds into your ClickandBuy account anymore. They also stated that players should deplete the funds that they have within their account before 1 May 2016.
Should you not wish to deplete your funds, you as the online casino player, can transfer your funds back to your personal account. As of the 30th of April 2016, players access to their funds will be limited. However, they will still be able to view their online transaction details.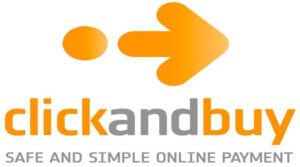 Guidelines for ClickandBuy Online Casino Users
Make sure that all of your funds are out of your ClickandBuy account.
Ensure that all of your funds have been transferred from your ClickandBuy account to your personal account.
Switch to another deposit and withdrawal method at your chosen online casino.
In summary, ClickandBuy is no longer offering its many years' worth of service to clients in the gambling industry anymore. To deal with these changes you should ensure that your funds are no longer in your ClickandBuy account. Ensure that you have chosen an alternative payment method at your online casino. New players should start using an alternative payment method option as ClickandBuy is no longer an option that is available to users.
Top AU Casino Banking Method
Credit Cards | Click2Pay | Mastercard and Visa | American Express |  Debit Cards | Bitcoin | Mastercard | Paypal | Neteller | Paynearme | uKash | POLi | Skrill | PaySafeCard |  Wire Transfer