The Martingale betting system is one of the most popular strategies used by Aussie gamblers. Withstanding the test of time, this betting system has transitioned from classic old school land-based casinos to the realm of online casinos. The reason this strategy is held in such high regard is due to its simplicity and efficiency. For a greater understanding of what this betting system has to offer, read the comprehensive guide below.
History of the Martingale System
This online betting strategy is one of the oldest around. It started gaining popularity as far back as the 18th century across Europe. This system is well known for its rule of doubling up after each loss and when a win is made the players initial bet must be wagered. Making this a negative progression system.
Much of the fame that the Martingale system has generated is owed to John Martindale, a London-based casino owner. He personally felt that the house edge did not work in favour of the gambler, and so he encouraged players to use the double up betting system so that they could redeem their losses. In addition, it is believed that the name Martingale, is a close rendition of the casino owner.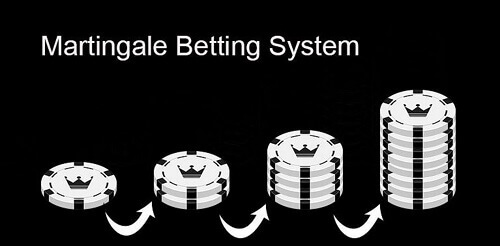 The Martingale System Explained
Here are a few facts about the Martingale system to get you more in the know about this online casino strategy:
This system employs a negative progression scheme.
It only has two rules, making it one of the simplest betting systems around.
Players are required to double their bets when they lose and return to their initial bet when they have won.
Assists in short term wins.
Ideal for games along the likes of:
Players will face phenomena of great risk for a small reward.
How the Martingale Strategy Works
What makes this strategy so great to implement is the simplicity of it. This strategy is applied to casino games that provide players with the opportunity to make even bets. There are two rules to keep in mind when employing this strategy and they are as follows:
#1. Every time you lose, double up
Simply put, if your initial bet is AU$2 and you experience a loss, your following bet will be AU$4. Experiencing a further loss will result in an AU$8 bet for your next round.
#2 When you win, stick to your initial bet
What this means is that when you experience a win, you will go back to the first betting amount that you placed. For example, AU$2. Regardless of the amount of times you have won, you must stick to your initial bet; it is only once you have lost that you can increase your wager.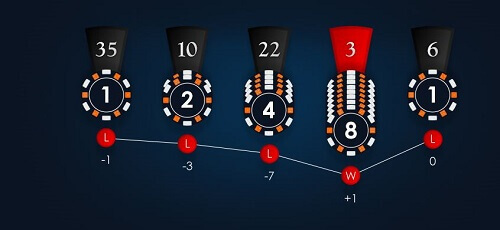 Pros and Cons of the Martingale System
Each and every betting strategy has its own unique perks and downfalls associated with it. To make it easier for you to identify what they are pertaining to this strategy we at Top Aus Casinos have compiled a list of pros and cons to help you decide which strategy to employ.
Pros
It is easy to implement.
Your initial bet can be as high or as low as you wish.
You are able to generate a short-term profit.
The game becomes more interesting when making use of this strategy.
Cons
The house edge is not affected.
Your bet size could increase exponentially.
To ensure success, you will need an uncapped bankroll.
You could reach the table limit quite quickly.
Risks are great for small rewards.
It is difficult to decide as to when you should bow out of the game.
Martingale Betting System Overall
All-in-all, this betting strategy is very easy for Aussie gamblers to apply when playing their favourite table game.  Although this strategy may bring with it quite a bit of risk, but that is what brings a great thrill. We all gamble for the thrill of possibly winning money, so why not try it out next time you feel that your gambling experience could use a little bit of spice!
Other Popular Betting Systems
Reverse D' Alembert | Paroli | Hollandish | Fibonacci | Parlay | Flat